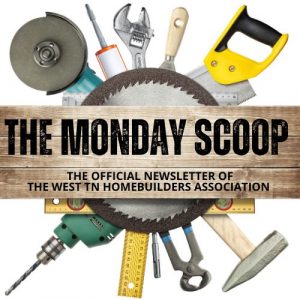 Industry news and more - delivered directly to your inbox!
The Monday Scoop is the official online newsletter publication of the West TN Home Builders Association.  Delivered weekly, The Monday Scoop contains a compilation of industry news, information about upcoming events, dates and times of upcoming council and committee meetings, and the latest information on savings and rebate programs.
If you are member who is not receiving The Monday Scoop, try checking your spam folder. If you do not find it there, you may have accidentally unsubscribed. To resubscribe, just click the link above.
We value your privacy and will not share your information. You may unsubscribe at any time.