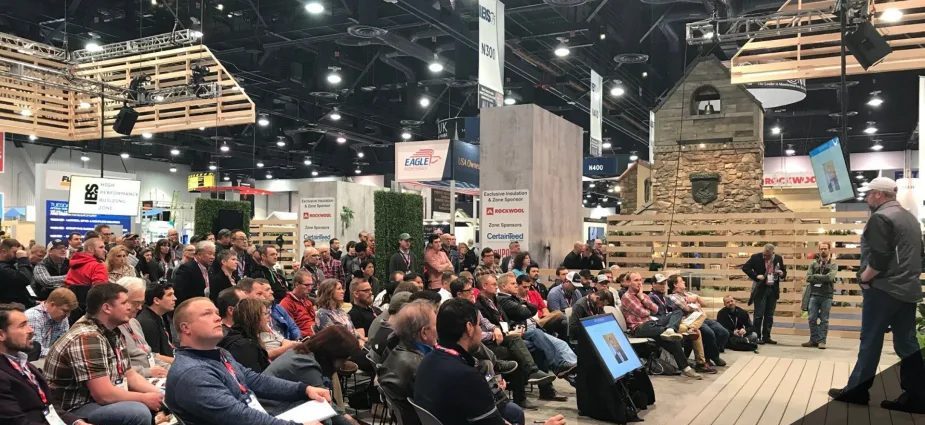 The West TN HBA's education efforts center on advancing the practice and professionalism of the home building industry. We offer programming for all levels of home building industry professionals – from new hires to seasoned contractors.
Membership provides opportunities to improve your skills, advance your career and network with your industry peers.  NAHB offers top-notch educational programming throughout the year on hot topics and trends across the home-building industry. The annual NAHB International Builders' Show® (IBS) offers attendees more than 150 education sessions during the three-day event.  Registered users can access previous webinars through NAHB's online library.
Local HBA offerings range from free Lunch & Learns to full-day seminars offering designations such as Certified Aging In Place Specialist, Certified Green Professional, Certified New Home Sales Professional, Graduate Master Remodeler, and many more.
Check our events calendar regularly for information about upcoming Lunch & Learns, Seminars and Designation Training Classes. If you need a specific course, give us a call at (901) 756-4500, and we'll do our best to add it to our offerings.
Who Is Required To Be Licensed
A Tennessee contractor's license is required BEFORE bidding or offering a price, for projects $25,000 and up (includes materials and labor), as a prime (general) contractor; and also subcontractors performing electrical, mechanical, plumbing, HVAC, roofing and masonry are also required to be licensed as a contractor when the total portion on the project is $25,000 or more; masonry, when $100,000 or more. In addition, a sub to a sub would need to be licensed whenever there are more than one (1) subcontractors on the project. Reciprocal agreements do NOT allow using another state's license in Tennessee, but provides a trade exam waiver, only.  License issuance takes 4 to 6 weeks and must be approved by the Board during regularly scheduled meetings.
General Information
License Name and Mode of Operation - A contractor's license is obtained as a Sole Proprietor, Corporation, Partnership or LLC, and issued in the exact name listed on the financial statement, which is provided by the owner of the entity (FYI - designated Qualifying Agents are not considered the owner of the license).  Contractors must bid in the exact name listed on the license.
Exams – The "Tennessee Business and Law" exam is required by ALL new license applicants, (except for BC-A/r), in addition to any applicable "Trade" Exam which may be needed to obtain many classifications such as Building (Residential, Commercial and Industrial); Electrical; Mechanical (Plumbing, HVAC, Fire Sprinkler); and Masonry.  Each exam cost is $57.00 and PSI is the exam vendor.  See "Classification Outline" for all classifications without a trade exam.
Reciprocal – The Board has a trade exam reciprocal agreement with several states (see overview below). This waives the trade, only;  Business and Law is NOT waived.
Qualifying Agent (QA) - Person who passed the exam(s) and may be taken by an owner, officer or full-time employee.  (FYI - The license does not belong to the QA unless they also the owner of the business entity providing the financial statement.)
Classifications – All licenses are assigned a classification, such as BC (Building); CE (Electrical); CMC (Mechanical); HC (Heavy Construction); HRA (Highway, Railroad & Airport); LMC (Masonry); MU (Municipal Utility); Environmental; and Specialties (landscaping, excavation, roofing, cell towers, solar panels, audiovisual, etc.,).  Classifications are derived from Rule 0680-1-.16 and see a compilation in the "Classification Outline"  Classification must cover 60% of the total project in order to bid, unless they have a commercial classification, and then they may bid but would be required to subcontract to a properly licensed contractor for the portions over $25,000. See TCA 62-6-111
Monetary Limit - All licenses are issued with a monetary limit, an amount approved for contracting/bidding, and this is based upon your financial statement prepared by a CPA.
Financial Statement – Review or Audit is required and must be prepared by a CPA.
Proof of Insurance – General Liability and Workers' Compensation
Secretary of State – For those operating as a corporation, general partnership or LLC, you must be sure to register with the Tennessee Secretary of State at https://tnbear.tn.gov/ecommerce/default.aspx
License Application - Provide a list of owners, officers, and qualifying agent (QA) information; experience, history, and disclosures (prior licenses; convictions; judgments; law violations; disciplinary actions; complaints, including ones closed, etc.,).  Those with a complaint history, such as complaints on file (open or closed); judgments; revocations; or felony convictions; or discrepancy such as lack of experience, the contractor applicant must interview with a Board member at a regularly scheduled meeting.
Deadline Date to Submit Application - The application must be submitted by the 20th of the month prior to the Board meeting. If the 20th is not on a business day, it would be the next business day after the 20th.  See the meeting dates from the Board website's Public Meeting Information
Application Fee - $250.00 and issued for two (2) years.
License Approval - It takes approximately 4 to 6 weeks to be granted a license (do NOT contract, bid or offer prior to obtaining a license).  Board review and approval are required and this is at their regularly scheduled meetings (see Public Meeting Information for dates). An appearance or interview with the Board may be waived as long as there is not a complaint history, conviction, or judgment by any of the individuals or qualifying agents applying for a license; or for ones who did not take the exams, such as the BC-A/r (restricted limited residential license); and if there is not any experience provided.  If an interview is required, the qualifying agent and the owner (if different) must both appear.
For more information, please visit https://www.tn.gov/commerce/regboards/contractor.html
Tennessee Board for Licensing Contractors New Education Requirments
Effective July 27, 2021 - New professional education standards are required for all licensed contractors, with classifications BC-A; BC-A/r; and residential small commercial BC-A,b(sm) after January 1, 2009. These rules provide that residential licensed contractors licensed on or after January 1, 2009, must complete continuing education, a minimum of eight (8) hours biennially, by a board-approved provider. Proof of compliance with this requirement must be filed with the board biennially in the format required by the board, as a condition for the maintenance or renewal of the license. This change brings the Tennessee Board for Licensing Contractors into compliance with Tenn. Code Ann. § 62-6-112(g). A full copy of the rules can be viewed here.
Upon review of the full rules, you will learn that "active membership in a professional trade association approved by the Board qualifies as four (4) hours of RCE annually for the year for which the membership is active."
In short, membership in the West TN Home Builders Association satisfies the education requirement in full. This is just another great reason all contractors should consider membership in the West TN Home Builders Association.