As a member, your benefits are tangible. They range from business-building resources to money-saving discounts to an effective grassroots network that shapes the views of our elected officials and law-makers. Whether you aim to enhance your competency in the functional management of your business, develop your professional reputation, or add your voice to the chorus of members who truly understand our industry – membership provides you with unparalleled access to these opportunities and more.

Advocacy at all levels of government:  From building permitting to environmental codes, to federal safety regulation, your membership gives you a voice. Successful advocacy efforts have saved individual builders and home buyers thousands of dollars per home. Collectively, these savings exceed several billion dollars and directly affect your business's bottom line.
Continuing Education: In 2019, the Tennessee General Assembly passed a new law requiring continuing education for licensed contractors in residential construction. The law states you must have completed a minimum of 8 hours of continuing education in the previous two years. The great news is each year of active membership in the WTNHBA qualifies as 4 hours of annual continuing education!
WTNHBA Warranties: Membership allows exclusive access to the New Home Limited Warranty and the Remodelers Limited Warranty. A warranty issued through the WTNHBA helps reduce the possibility you will end up in the courthouse by including a mandatory mediation and arbitration clause, providing an opportunity for an issue to be resolved before it turns into legal action.  In addition, our warranties require the homeowner to give you notice of a defect (and also give you the right to inspect and repair the home), reducing the likelihood of a legal issue.  By including written performance standards, the possibility for confusion or subjectivity about what is and isn't covered is removed.
Connections:  Membership affords you opportunities to increase business and connect with other construction industry professionals. Bring awareness to your company and learn what your peers are doing. Events include traditional membership luncheons, after-hours mixers, sports tournaments, educational events, and more.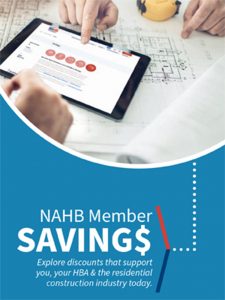 Savings & Rebates:  You can easily cover the cost of your membership by taking advantage of the discount and rebate program offered by your local, state, and national associations. Save big on products and services that you use every day, from insurance to office supplies to cars and trucks. Get rebates from over 50 of the country's leading manufacturers.  The average rebate per Builder/Remodeler in 2021 was $1,582.
Competitive Edge: The home building industry is constantly changing, and it's changing more quickly today than it ever has before. You need to stay up to date, not only on current trends, but also on current materials, recommendations, LEED certifications, sustainability, and even how to continue to stay relevant and reach new clients.
Positive Image:  Membership demonstrates your initiative, your engagement in your industry, and your commitment to staying abreast of current developments in the market. According to a national study, approximately 85 percent of all business failures occur in companies that are not members of their trade association.
Job Postings/Deals & Discounts/News Releases: Need a new member for your team? Have a special deal you want consumers to know about? Have news you want to share?  Members can market their businesses by posting job openings, discounts, and news releases on our website.
Opportunities to Support Your Community:  The WTHBA has a history of giving back to the community in various ways. Our member volunteers have contributed their time and resources to make their communities better places in which to live, work, and play. From scholarships to charity builds, our members raise hundreds of thousands of dollars every year to support local charitable causes.