by Drew Fondren, Member Services Coordinator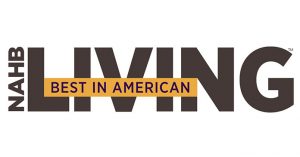 The National Association of Home Builders recently announced the winners of the Best in American Living Awards (BALA) – a prestigious awards program recognizing excellence in designs that will influence the entire residential building industry.
Award recipients are lauded as the nation's most creative and inventive builders, remodelers, architects, developers, land planners and interior designers.
Below are some of the trends in home design that buyers throughout West Tennessee will see in the coming months and years, based on submissions from this year's BALA winners. Some of these elements are sure to inspire your next design project.
From single-family to multifamily and community amenities, outdoor living continues to be a huge focus in home design. Even in colder climates, designers are incorporating great indoor/outdoor spaces that could be utilized differently depending on the time of year.
These dazzling features provide not only a great focal point for entertaining spaces, but also highlight the celebratory nature of wine by making it a design element.
Large showers and standalone or additional soaking tubs are making a splash in today's bathrooms, especially where larger square footage allows for them. Great bathroom designs also focus on the ability to bring in lots of natural light while still maintaining privacy, whether through frosted panes or outdoor privacy walls.
From eye-catching backsplashes to ceiling details, today's kitchens are expanding beyond the basic white and wood palettes in years prior through thoughtful touches and clean-line designs. Even hood designs are getting more creative as designers work to disguise them in clever ways and help them to blend more seamlessly with the overall space.
Kitchen islands also remain prominent, including creative insets and add-ons, such as wine fridges for greater functionality. Larger kitchens may feature not one, but two of these entertainment workhorses.
Rich materials, strong contrasts and sweeping staircases made great first impressions in several standout entryways.
Details add a level of richness to create stunning homes across the country. From traditional to contemporary to modern farmhouse, rich regional materials can be balanced with contrasting colors to create strong curb appeal. Color blocking — especially in multifamily designs — create a cohesive, yet unique, appearance.
To find an industry professional who is ready to bring these exciting new trends to your new home or remodeling project, click here, or contact the WTNHBA at (901) 756-4500 or office@westtnhba.com.