by Drew Fondren, Member Services Coordinator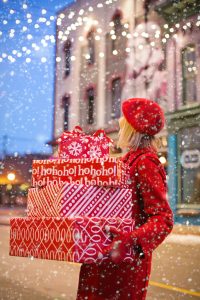 The holidays are here again, and shopping around for unique gifts is in full swing. Unfortunately, due to the pandemic, the last couple of years have been challenging for retailers. Therefore, to help our economy recover, it's more important now than ever to support small businesses in our community this holiday season.
Overall, more than 32 million small businesses in the United States employ nearly half (47 percent) of the country's private workforce. In our community, every time you patronize a homegrown shop, bookstore, or other retailers, you are helping to make a sizable contribution locally. In addition, small businesses have generated 12.9 million new jobs over the past 25 years, accounting for two out of every three jobs added to the economy. So, there is no question that small businesses help communities thrive across the country.
If you've passed by a local shop several times but never had an opportunity to visit, now is the best time to check it out. Small businesses in our area often carry locally made, one-of-a-kind gifts or items you may not be able to find anywhere else. If you work up an appetite shopping in stores this holiday season, restaurants or coffee shops also benefit the local economy.
Our community's local home builders and remodelers are also small businesses contributing to our local economy. According to the National Association of Home Builders, constructing 100 new single-family homes creates 394 local jobs, $28 million in wages and business income, and $3.6 million in taxes and other revenue for local governments.
Once your holiday shopping list is complete if you're looking for someone to remodel or even build your dream home, consider seeking out a business based in our community to see what they offer. Our community has an array of qualified professionals including home builders, remodelers, tradespeople, and professional service providers.
For more information on locating a small business related to the home building industry, contact the WTNHBA at (901) 756-4500.