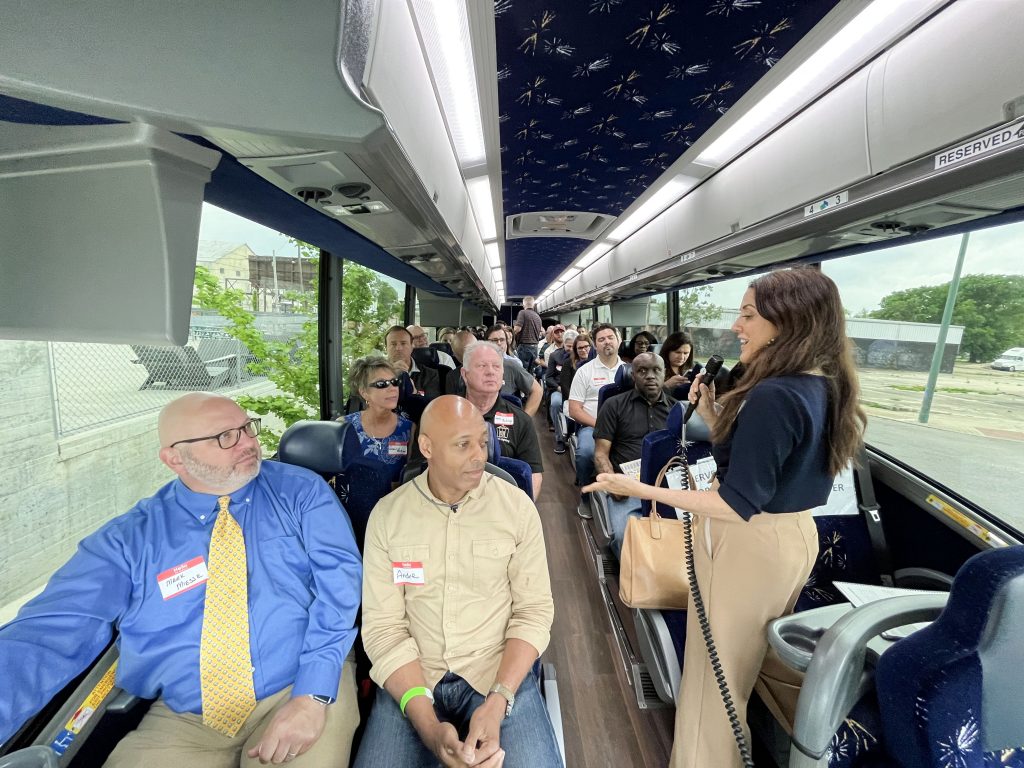 On May 5th, 2022, we set out on a bus tour with over 50 of our members to explore developments and projects in the downtown Memphis area. In collaboration with the Downtown Memphis Commission, we were able to learn more about over 50 developments in downtown, and also got the opportunity to get a closer look at three of the sites.
The Kent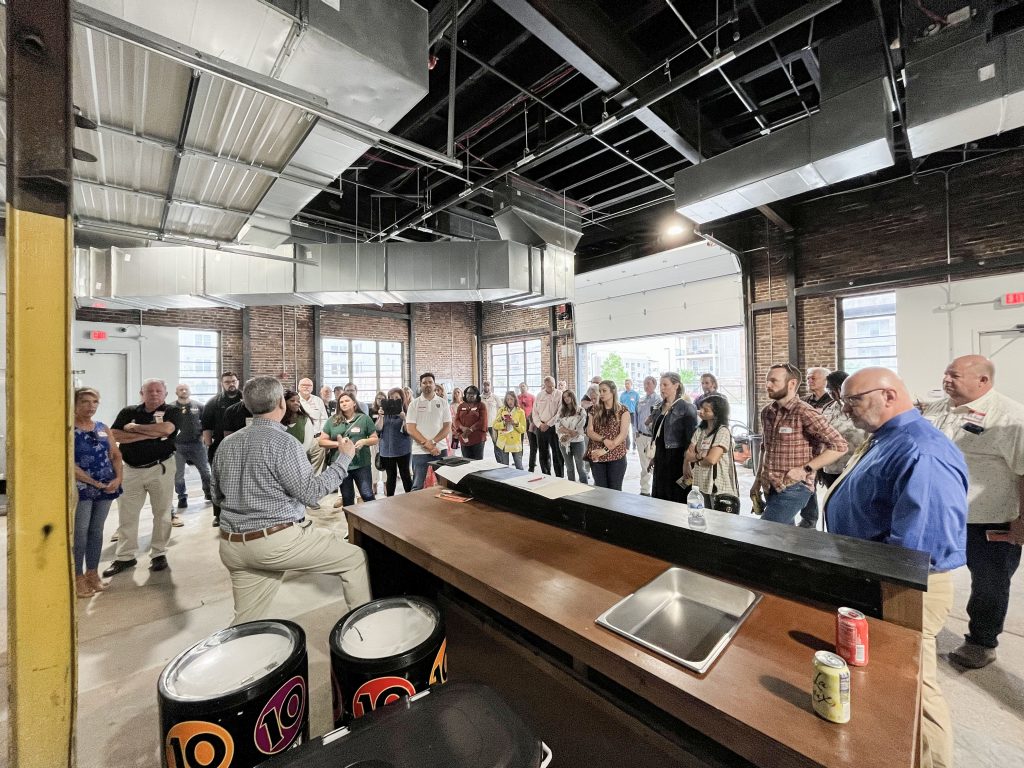 One of our first stops was The Kent in the Historic Snuff District. Beautifully preserved and renovated, The Kent offers a charming blend of sophistication and rustic elegance. This new urban space has been converted from a historic building to provide you with the perfect industrial-chic location for hosting events. With over 20,000 square feet of space that allows for up to 1,000 guests, The Kent can be utilized in a variety of ways for any celebration. The Kent offers many amenities to help any event including a pre-function area with an outdoor courtyard, a large ballroom, private suites for getting ready, additional meeting rooms, and an on-site experienced event planner.
From its origins as a cotton oil press through its adaptation and alteration as Tri State Iron Works from 1927 until 1975, The Kent has a rich history rooted in the industrial evolution of Memphis. Originally built in 1883, the building is located in the heart of the Historic Snuff District of downtown Memphis.  Carefully renovated in 2021 to preserve the history and beauty of the original building, The Kent strives to honor the history of industrial evolution that reflected the changing economic climate of Memphis.
Malone Park Commons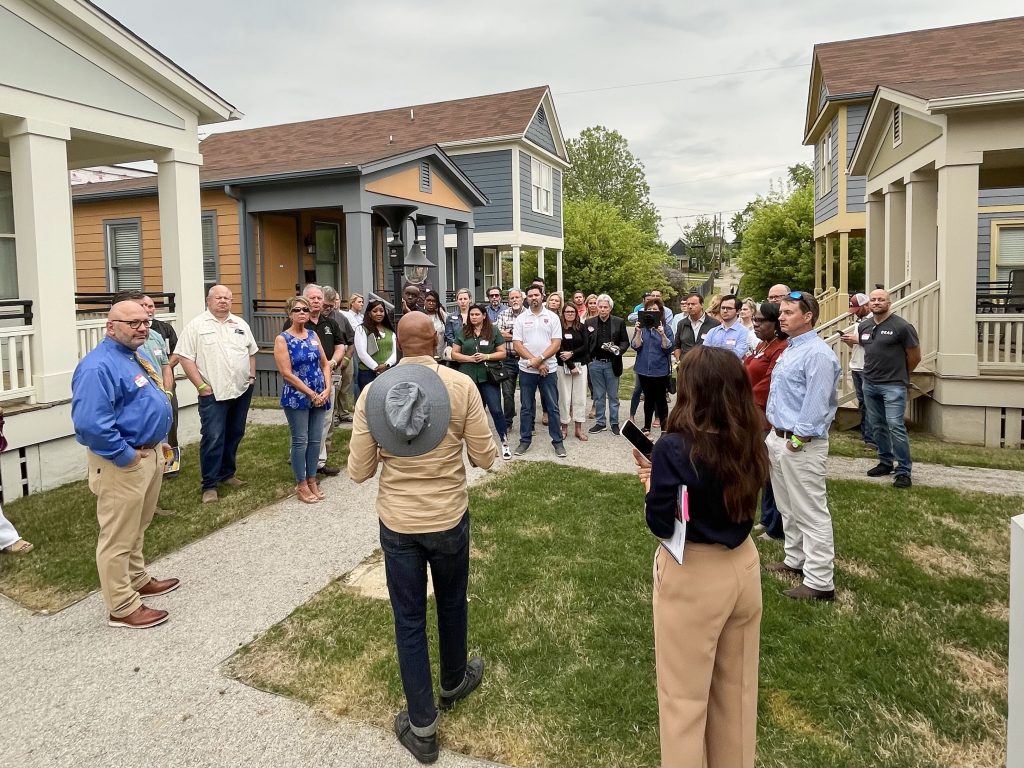 Our second stop was Malone Park Commons, a 35-unit "pocket neighborhood" development in uptown, with a variety of attached and detached residential units, ranging from studios to 2-bedroom cottages. Phase one of the project has 11 small cottages that share a courtyard. The cottages range from 330 to 1,100 square feet and have luxury amenities like red oak hardwood floors and large front porches.
"Many architects and builders today focus on materials and methods to promote sustainability. We believe beauty is just as, if not more important, as sustainability," says developer Andre Jones of Jones Urban Development. "Simple, beautiful, flexible buildings that encourage human activity and interaction will be loved and repurposed for years to come. This was our vision for Malone Park Commons." Jones Urban Development bought the land in Uptown from the Community Redevelopment Agency. (via The Memphis Flyer)
The Landing Residences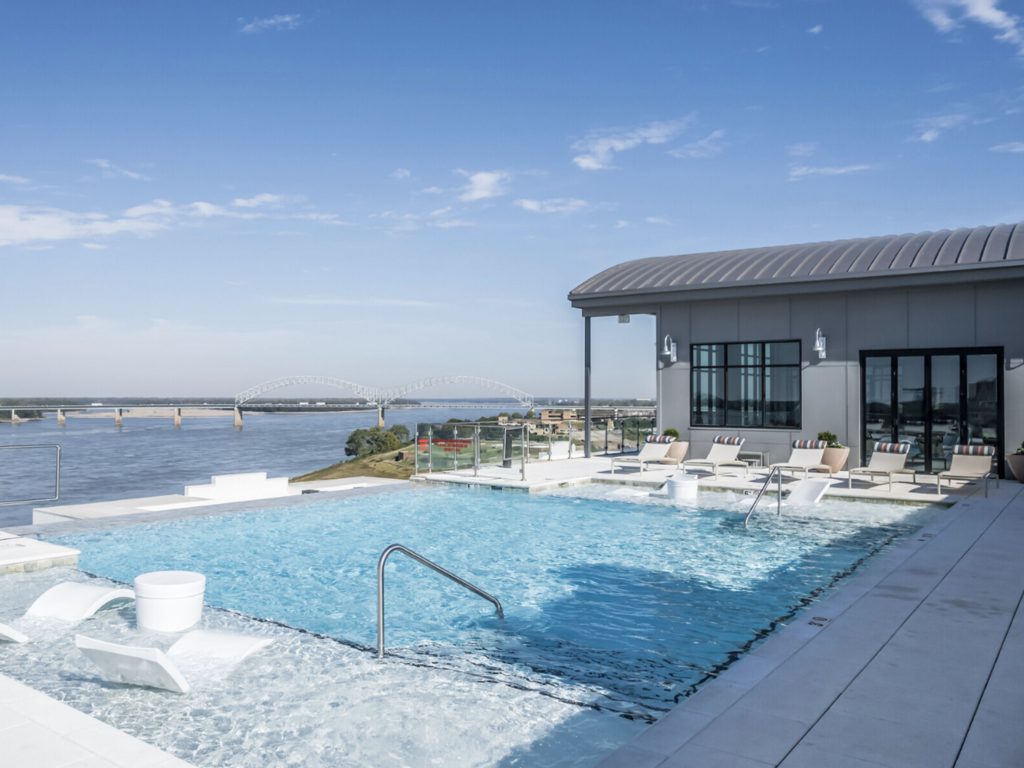 Our final stop was at the Landing Residences, the residential portion of the One Beale project, which includes new-construction apartment buildings with 280 residential units, as well as a garage with 640 spaces and leasable retail space.
The new happenings that surround The Landing are a part of a transformative project for Downtown, Memphis consisting of four Phases total bringing Carlisle Corp.'s newest addition to One Beale the Downtown project to 713 rooms in three hotels employing almost 1,100 workers. The Landing Residences are more than enthused for the delicious new restaurants to come in sync with the hotels.
"As a whole, One Beale will be an iconic and transformative project for Downtown Memphis. The project will add much needed population and residential density to an area linking the Downtown Core with the South Main District," the report in Commercial Appeal states.
Per The Commercial Appeal and Daily Memphian and the Carlisle Corporation, construction of the Grand Hyatt is projected to begin as early as 2022 and be completed in late 2023 or early 2024.
Watch the full recap video here:
https://www.facebook.com/westtnhba/videos/503853644858201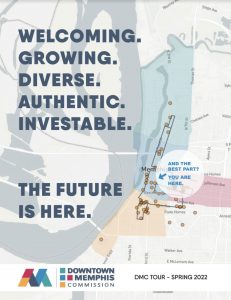 Click here for a digital copy of DMC's Downtown Guide
For more upcoming events, visit https://builders.westtnhba.com/events