Key Features to Creating a Healthy Home
Market studies show consumer interest in healthier homes and communities has been increasing for several years, as consumers make the connection between their home and their health. Today's consumers are prioritizing health and wellness at all price points in both new builds and remodels, with the wellness real estate market nearly doubling from 2017-2020 ($148 billion to $275 billion).
The latest Home Performance Counts virtual green home tour of Villa Bilancia, in Pebble Beach, Calif., showcases many strategies that contribute to a healthy home.
"What we really felt is we wanted to create a beautiful home where the green and healthy was invisible," stated Bill Hayward, CEO and chief sustainability officer of Hayward Lumber and founder of Hayward Healthy Home Score, who owns the home. "And the great news is, when you make a home healthy, you also make it tight and energy efficient, so you get that value, too. So health is really the powerhouse that's going to make this change happen on a much faster scale than the drive to energy efficiency."
Villa Bilancia was designed and constructed around the Hayward Healthy Home principles:
Continuous fresh air
Proper sealing and insulation
Non-toxic materials and products
Cleanable surfaces
Healthy home habits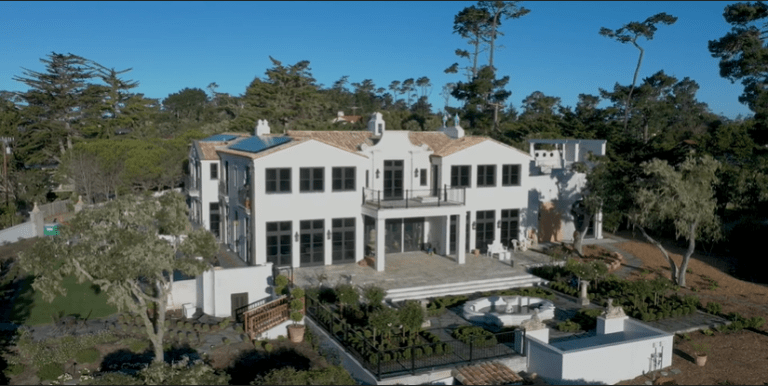 It is also one of the pilot homes for the Wellness Within Your Walls' (WWYW) home certification process, and Hayward conducted the tour with Jillian Pritchard Cooke, WWYW founder and DES-SYN president.
One of the key features in a healthy home is continuous fresh air, which is provided with proper ventilation.
"You need two vents: One to supply — and it needs to look beautiful — and one to exhaust," Hayward stated. Air supply vents seamlessly integrate with the 17th/18th century Italian villa design, and two antique chimney vents (that his wife, Adrianna — who designed the home — found on Etsy) provide the exhaust pathways.
Hayward installed an exhaust vent in the room immediately facing his stairwell — the highest point in the house.
"One of the interesting things in all houses is a stack effect — air is always rising," Hayward explained. "Stairwells happen to catch all the odors and everything in the house. So when you're designing great fresh air, at the highest point in the house, you want to put in exhaust."
The home also has six energy recovery ventilators (ERVs), which run continuously to provide conditioned fresh air, but only consume 40 watts of energy. Hayward uses the same systems as Habitat for Humanity, he noted, so the price point translates into broader applications, not just custom builds. The number of units needed scales to the size of the home.
"A 2,500- to 3,000-square-foot home would do fine with one system," he stated.
Non-toxic materials and products, installation practices and design strategies also influence home health. Examples include:
Wide-plank flooring with a water-based finish,
No/low volatile organic chemical (VOC) paints and finishes,
Appliances were unboxed in the driveway for a day to allow them to off gas before they were installed in the home,
An induction stovetop, which provides a fast, energy-efficient way to cook and aerosolizes fewer carcinogens,
A steam oven, which replaces an electromagnetic radiation emitting microwave, and
A separate ventilation system in the garage to keep chemicals and odors from entering the house.
"In most homes, where the garage is attached, 20% of the air you breathe leaks in through the garage," Hayward explained. "So, at Hayward Score, we say, 'What's in your garage is in your house.' And what do people put in their garage? All the stuff they don't want in the house."
To view the full tour — featuring a Q&A session with Hayward, Cooke and Scott Chaplan, Esq., REALTOR® at Del Ray Urban and founding partner of GF&C, LLP — visit nahb.org.
The next tour will take place Jan. 20 at 3 p.m., and features a Texas mid-century modern remodel from Ferrier Custom Homes. Register now for more details.
2022 International Builders' Show (IBS) attendees can also learn more about healthy homes at "Leveraging Health, Wellness & High Performance Solutions to Meet Demand." The pre-show master education session, held Monday, Feb. 7, from 9 a.m. – 12 p.m., will explore the design and construction principles of a healthy home, and how to apply building science and wellness strategies and solutions to meet new and existing home owners' needs.
Register today to attend the 2022 IBS.