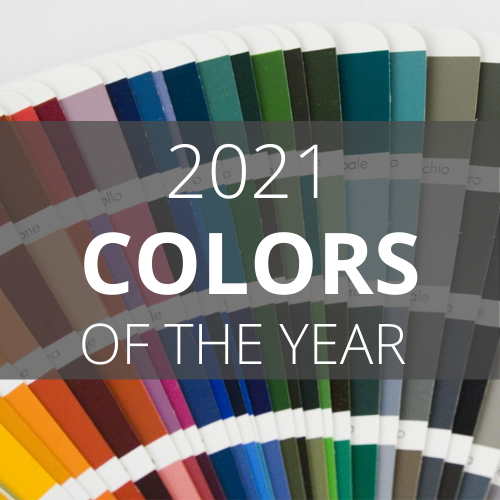 Some new trends are on the way in 2021 for home design! Sherwin Williams and PPG Paints have announced their colors of the year for 2021. "I'm so excited of the announcement of Urbane Bronze as the 2021 Color of the Year", said Austin Smith, Associate Member with Sherwin Williams. "Urbane Bronze is an incredibly versatile color, works wonderfully both inside and outside, and pairs beautifully with warm and cool neutrals.  I'm looking forward to see how Urbane Bronze will be used in our market homes this year". According to Sherwin Williams, Urbane Bronze captures that simple sophistication every space is searching for. Though rooted in nature, the color has a unique ability to ground a room through organic appeal. Whether it's accentuating window trims or accent walls, this warm hue draws from nature for a feeling of relaxation and serenity.
Associate Member, David White with PPG Paints says he is excited about their 2021 Palette of the Year which is 'Be Well'. The palette consists of Transcend, Big Cypress, and Misty Aqua. "When the world experiences events that cause unrest, anxiety and grief, we tend to naturally gravitate toward compassionate colors that allow us to create a personal retreat from the world," said Dee Schlotter, PPG Senior Color Marketing Manager. PPG Paints says the color trio celebrates beauty of all kinds and relates to those who want to prioritize wellness in mind, body, and spirit.
Both companies say the pandemic had an impact on the colors they chose for 2021, saying people have spent and are spending more time at home.
For information on the 2021 Colors click the links below:
PPG Paints
https://news.ppg.com/press-releases/press-release-details/2020/Embrace-nostalgic-neutrals-simple-comforts-PPG-announces-Be-Well-2021-Palette-of-the-Year/default.aspx
Sherwin Williams
https://www.sherwin-williams.com/homeowners/color/find-and-explore-colors/paint-colors-by-collection/color-forecast/color-of-the-year?gclid=CjwKCAiA_9r_BRBZEiwAHZ_v186S7U_tfmdiFSPLdqi4ostsfVPkUL3wo4wz0rs5Bm5AZeGfStQxLBoCr_oQAvD_BwE