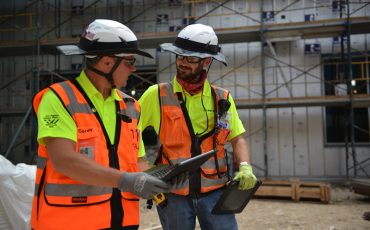 Superintendents are ensuring job sites could be abandoned indefinitely at the end each day; infrared thermometers are checking some workers' temperatures before they enter sites; and some tasks are being moved to nighttime.
The global pandemic has required local contractors to take numerous precautions. While preparing for the worst, though, they're pushing forward with work and are still plenty busy.
"We've had to sharpen up," Walker General Contractors president Daniel Walker said. "We're still signing new contracts daily. But, I suspect there will be some ramifications at some point."
On March 25 and 26, the MBJ asked executives at four local construction firms about sourcing materials, staying safe, and other concerns of the past couple weeks. Below is what they said.
MBJ: How have you been working to keep social distance on a job site?
Flintco southeast region president Tim Weatherford: "Everyone entering the job site has to answer three questions — if they're showing any symptoms; have been in contact with anyone [who has COVID-19]; or have been outside the U.S. … We're shifting some work [to night] so not as many people are on site at one time."
Walker General Contractors president Daniel Walker: "On bigger job sites, we have check-in points for subcontractors. Before entering the job site, the superintendent is in charge, with an [infrared] temperature scanner.On smaller projects, where you may have a superintendent in charge of several smaller projects, it's more of a visual checkpoint as he's in and out of the job.
Grinder Haizlip Construction vice president Chris McDermott: "We're staying 6-8 feet apart and washing hands. It is affecting efficiency, but it's not like we have to be elbow-to-elbow to do our jobs."
Have you had any workers show symptoms?
F&F Construction vice president Beau Yarbro: "We have had some subcontractors who have had scares but no one who has been diagnosed. It's just been kind of a tiptoe through landmines."
Weatherford: "We've had few workers show symptoms but were cleared, and a few with tests outstanding."
For now, construction is listed as an essential industry in Memphis. But, are you preparing for the possibility the mayor or governor may shut the construction industry down if things get worse?
Walker: "When you leave daily, the jobs have to be in a condition where you can drop what you're doing for an extended period of time."
McDermott: "Before I found out [construction was deemed essential], I had a hard time sleeping. … It is worrisome they may do that."
Have you had any trouble sourcing materials?
Yarbro: "No, it hasn't been too difficult."
Weatherford: "We've experienced just a few situations, with products coming in from Italy [tile] and China [light fixtures], so we're working with owners and design teams to source different products. As other parts of country go to full stay-at-home policy, some manufacturers have given notice they may see a shortage of products soon.
Are you working on any projects related to the virus?
McDermott: "At FedEx, we're putting tents up and helping them get prepared for testing."
Yarbro: "Some medical clients are leaning on us to set up some temporary facilities. We converted something to a testing area in the parking lot of a hospital so they could keep people being tested away from the rest of the facility."